Turkey Taco Lettuce Wraps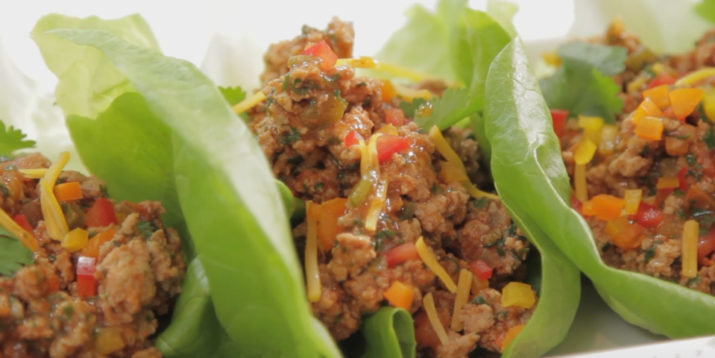 You probably didn't expect that tacos could be part of your healthy meal plan.
But these Turkey Taco Lettuce Wraps make family taco night a whole lot healthier and delicious to boot.
With a perfect blend of spices, 93-percent lean ground turkey, and our FIXATE Marinara as a base, these lettuce wraps are bursting with that authentic flavor your whole family's sure to love.
Odds are, when you think of tacos, "healthy" isn't necessarily the word that comes to mind.
The types of ingredients that usually accompany tacos can throw your healthy meal plan off the rails: Fried taco shells, globs of sour cream, and mounds of cheese come to mind.
But tacos don't have to be unhealthy. Fresh veggies, ground lean protein, and a flavorful spice blend are all you need to make killer, healthier tacos.
In this episode of FIXATE, Autumn Calabrese and her brother Bobby create a taco recipe that omits the diet busters and shines a spotlight on the most important part of this dish: the filling.
Rather than reach for ground beef, Autumn and Bobby use 93-percent lean ground turkey. While there's nothing wrong with beef (we use lean ground beef in many recipes on the BODi blog) it does have a higher fat content.
To keep these tacos as healthy as possible and still maintain a rich authentic flavor ground turkey is the ideal choice.
To build a deep, rich flavor profile, Autumn and Bobby begin by sauteeing freshly diced onions and bell peppers and then layer on the spices. Cumin, chili powder, paprika, and oregano are just a few of the many spices they use to create that classic taco flavor.
To get the recipe and find out the Container Equivalents and nutritional information, watch the FIXATE episode on BODi!