Slow-Cooker Chicken in Wine Sauce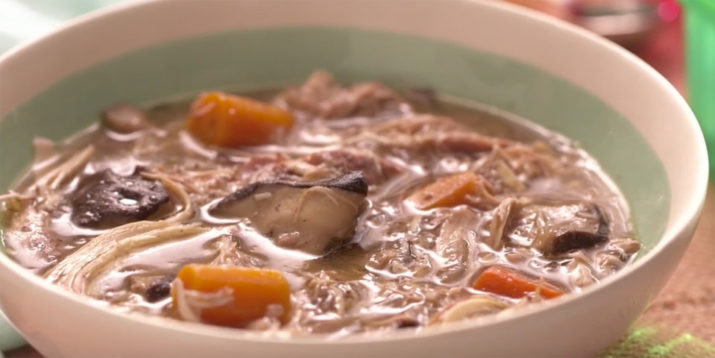 For the busy families and folks who are always on the go, there's a cooking method that makes us look like the savviest cooks without spending all day hovering over a stock pot.
Low and slow is not only a time-tested cooking method, it almost always yields delicious results.
This tasty Slow-Cooker Chicken in Wine Sauce recipe is a slow cooker classic sourced directly from the Calabrese childhood home.
For Ultimate Portion Fix creator Autumn Calabrese and her brother, chef Bobby Calabrese, this is a recipe close to their hearts. Growing up, their father ran an Italian restaurant and he regularly made this very recipe for the family at home.
If you don't have a lot of time to prepare complicated dinners, but still want rich, home cooked soups and stews using a slow cooker is a must.
As is the case with most broth-based soups, this recipe begins with a mirepoix (French) or soffritto (Italian) — a combination of diced vegetables that are cooked gently to add depth of flavor.
This combination of aromatic sauteed vegetables is a little bit different than what you'd usually use: Onions, carrots, and woodsy shiitake mushrooms are the basis for the flavor profile of this soup.
Even though this is a slow-cooker recipe, you'll saute your mirepoix and deglaze the pan with a bit of dry brandy — yum!
Feel free to use bone-in chicken for this recipe; just know the meat is going to get "fall-apart tender," so you'll need to pick the bone out if you do.
If opting for boneless chicken, use a combination of dark meat and white meat using equal parts of thighs and breasts for even more flavor and texture.
Autumn and Bobby added one last flavor enhancer to take this soup over the top: A smoked ham hock imparts deep flavor to the broth and character to the soup. Just make sure you remove it before serving!
To get the recipe and find out the Container Equivalents and nutritional information, watch the FIXATE episode on Beachbody On Demand!