Raspberry-Filled Cookie Bites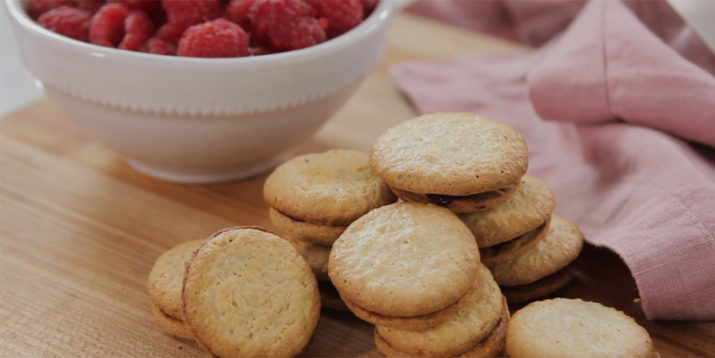 When looking for recipes that fit perfectly into the FIXATE healthy meal plan, Ultimate Portion Fix creator  Autumn Calabrese her brother, chef Bobby Calabrese created recipes that feature healthy ingredients.
These Raspberry-Filled Cookie Bites are a prime example. Based on the classic French macaron recipe, these delectable little cookies feature all-natural ingredients and taste like they fell from an idyllic French patisserie.
The traditional recipe begins with egg whites and almond flour which, for a cookie, is a healthy start!
Actually, these cookies are healthier than your average macaron thanks to their tart, simple raspberry filling and the use of honey instead of white sugar.
This is where the FIXATE recipe and the traditional version diverge: Autumn and Bobby have chosen to go with an Italian meringue which, unlike a traditional French meringue, is cooked so it allows for the use sweet all-natural honey.
Yes, this alters the recipes usual execution a bit. So if you're used to the traditional macaron recipe, making these FIX-approved Raspberry-Filled Cookie Bites may take a little getting used to.
That's why having this episode of FIXATE on demand is clutch — watching Autumn and Bobby move through the stages of the recipe is an ideal way to learn the proper technique and execution.
This recipe makes 18 impressive little cookies that no one will ever know are healthier than the average cookie!
To get the recipe and find out the Container Equivalents and nutritional information, watch the FIXATE episode on BODi!