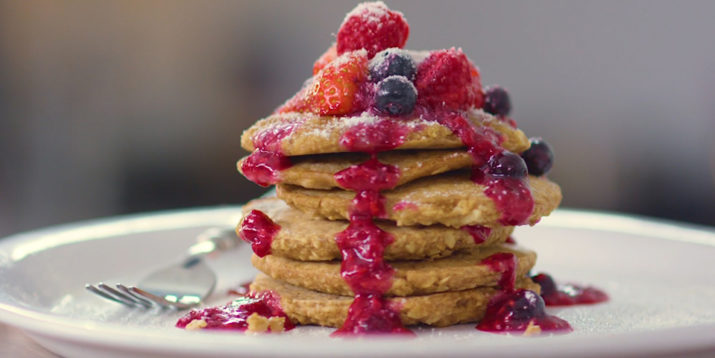 If waffles and pancakes are your breakfast weakness, you'll be glad to hear that 21 Day Fix creator Autumn Calabrese and her brother, chef Bobby Calabrese have created this recipe for Cashew 'N Oat Hotcakes that's sure to have you whipping up batches of batter on the regular.
This fun twist on the classic hotcake is strikingly similar to the pancake recipes you know and love, with a few key exceptions.
To achieve the perfect rich and creamy texture, cashews are blended into the dry ingredients along with rolled oats, cinnamon, baking powder, and a touch of sea salt.
You'll notice that cashews are often used in healthy recipes when your dish needs to have a creamy, batter-like consistency.
In lieu of milk, Autumn and Bobby use almond milk and just like your quick and easy pancake mix, this recipe calls for a single egg.
After a quick blitz in the food processor, the consistency of your batter should be spreadable.
Like your average pancake batter, it should spread out in all directions when ladled out onto your pan or griddle. These oatcakes will also bubble at the top when they are ready to flip.
Gently heat an array of your favorite dark-colored berries in a bit of water and burst them with a wooden spoon or a spatula.
This mixed-berry compote will add a touch of sweetness and a bit of tart to this healthy breakfast.
To get the recipe and find out the Container Equivalents and nutritional information, watch the FIXATE episode on Beachbody On Demand!