Transformation Tuesday: A Naval Officer Gets Fit with PiYo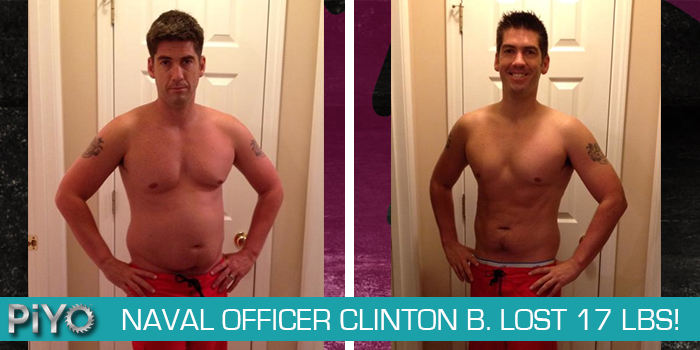 Clinton B. is a Naval Officer, former college athlete and a high-intensity workout junkie. He found that he wanted to build up his endurance, work on his core and improve his flexibility —so he began PiYo with his wife, and had awesome results, losing 17 pounds and 4 sizes! Check out his story in his own words:
I was a collegiate athlete and have always been attracted to high intensity workouts that challenged me. Unfortunately, I've never been flexible and mobility was always my biggest challenge. So I wanted to build muscle endurance, work on my core and still get better at my flexibility. Plus, my wife wanted me to do it with her and we could have a 30 minute date every day for 8 weeks.
I like that I can do PiYo anywhere! In my garage, in my living room, at the gym, on a ship… anywhere I can find space, I can do it! It's very easy to follow, so we make it a family event. Being an officer in the Navy and deployed a lot, one of the things I value the most is family time. PiYo gave us a great change to combine workout time with family time. My 5 and 2 year old would join my wife and I for a lot of the workouts.
At the end of the program, I was surprised to see definition in a muscle that I knew I had but always gave me trouble. My IT band! I could actually see that muscle when I stood in front of the mirror. Another change that I'm very, very happy with is the fact that I can now fit in my military uniforms from college back when I was in great shape playing Division I college baseball at the Naval Academy. I no longer have to wear my "fat uniforms" and can comfortably wear my "in shape" uniforms.
I can touch my toes! That really doesn't sound like a big deal in the grand scheme of things, but it is to someone who has struggled with this simple task for years. PiYo has also benefitted other aspects of my fitness. I'm not sure as much as I used to be after doing Asylum or INSANITY. Ever since starting PiYo, I've been living comfortably in the "injury free zone." No knee or back problems that would occasionally arise from plyometric exercises. PiYo has also helped me when I go for runs. My strides are so much longer now! It feels like I've grown six inches! With my strides being longer, my pace per mile has greatly improved. Basically, PiYo has been the catalyst I needed to elevate my fitness.
I was so glad I saved all of my old uniforms that I never thought I would fit into again. Being an officer, it's my job to set and be the example. But I basically looked like a slob in my uniform. After PiYo, I can now wear my uniform with even more pride and confidence in myself – finally setting the example. 
Clinton, we here at Beachbody thank you so much for your service! We appreciate the sacrifices you make for our country and we honor you and all your accomplishments today. Happy Veteran's Day!
---
You can change your life, too. Take the Beachbody Challenge, for the ultimate motivation to get fit! Select any Beachbody program and once you complete it, share your results for your chance to win cash and prizes.