I Decided to Change My Life. You Can Too!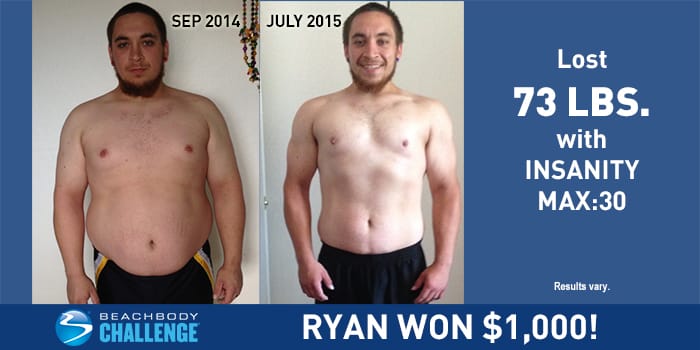 Results vary depending on starting point and effort. Ryan is an independent Beachbody Coach.
Ryan B, age 26 from Carson City, NV, lost 73 lbs with INSANITY MAX:30 and Shakeology. He entered his results into The Beachbody Challenge and won $1,000!

Tell us about your life before you started the program. How did you feel about yourself and your body?
Well I was overweight for sure, my body fat percentage was 31, and I felt horrible. I had untreated sleep apnea. My wife told me I would stop breathing and suddenly gasp for air while I was sleeping at night. I snored really badly as well. At one point my wife had considered sleeping on the couch due to how bad it was. I was completely miserable and had very low self esteem. I could hardly look at myself in the mirror without being completely disgusted in myself. I went to the hospital thinking I might be having a minor heart attack, and it turned out to be GERD, which is an elevated form of heartburn. I was prescribed with a strong antacid, and it stopped until I would run out, and then it would come back again. I was getting so heavy I could hardly walk through the house without becoming out of breath. I slept all day long and never wanted to be active in my life, and I was very depressed because of it. I ate junk food constantly and didn't care about my health.
What inspired you to change your life and begin your transformation journey?
My inspiration for changing was a realization I came to when my youngest son was born in August 14th last year. I thought really long and hard about my life and wondered how long I would be around if I kept going down the road I'm going down. I thought a lot about my wife and children and how unfair it would be if I left them here in this world without me, to fend for themselves. Would I even make it until my children graduate high school? Will I be able to live my dream and grow old with my wife? My chances were slim to none if I kept up my unhealthy ways. I had a day where it clicked and I cried when I made a decision on the 1st of September last year to make a change! I decided that no matter what I will make a complete change of my life and the lives of those around me!
What is the greatest challenge you faced before beginning the program? How did the program and Beachbody® help you overcome that challenge?
My greatest challenge was being overweight and completely unhealthy not only physically but also in my life and all my relationships with others. Beachbody has helped me with this because it has brought me closer to all of those around me, and I feel like it has helped me show love to others again and be able to build relationships back up again! Beachbody has also helped me with the incredible workout programs and all the support and motivation you get from the website and the Challenge Groups! Beachbody has helped me overcome my fear and continue down the road to happiness, and Beachbody has also taught me that if you have ambition, motivation, drive and determination you can do anything you want in life no matter what it is! Beachbody has taught me to never give up!
What in particular did you like about the program you chose?
Well what I liked in particular is how much energy and motivation there is during your workout! It taught me to keep pushing and not give up even when my tank was empty! It taught me that results don't come without giving it everything you have!
Describe the results you achieved with your Beachbody program. Which achievements are you proud of?
The results I've achieved I feel are incredible! I've lost 73 pounds and I can actually see my abs! I'm amazed at how far I've come with my workout endurance! I made it all the way through the max 30 cardio challenge without stopping! I have more definition in my legs, my arms, my chest, and my back! I'm no longer afraid of getting GERD, sleep apnea, or becoming obese.
How has your life changed since completing your Beachbody program?
My life has changed in many ways! The most important way is the relationship with my family! I have more energy now so I am much more active in my wife and children's lives! I don't fall asleep during the day anymore and I have this burning energy all day long! My wife tells me I sleep much more calmly at night and don't snore anymore! That has helped my relationship with my wife in many ways because she can now sleep at night! I am going for walks and runs, and don't feel like I need to sit around all day anymore! My life has completely taken a U-turn, and I am much happier with the way things are now!
How did participating in a Challenge Group help you reach your goals? How did your group support you and keep you accountable?
The Challenge Group that I joined helped me by giving me motivation, support, and a lot of helpful info and recipes!
How did your Team Beachbody® Coach support you on your journey?
He helped support me by making me feel like I was worth the goal I'm reaching for and so much more than that! If it weren't for him I would not have made it this far!
How did a Beachbody Supplement or Nutritional Product or Program (such as Shakeology® or Beachbody Ultimate Reset®) support your transformation? What are the greatest benefits you gained? Did you see benefits to your energy, sleep, mood/mental clarity, digestion/regularity?
My daily dose of dense nutrition! My shakeology is the end of the day snack for me due to the fact that it gives me energy to get through the rest of the day after my last meal!1 I can tell when I don't take this also because I will fall asleep about an hour early at night! But I can tell it has helped to improve my health immensely!1
You can change your life, too. Take the Beachbody Challenge for the tools you need to Decide, Commit, and Succeed! Complete any Beachbody program, and enter your results for a free gift and a chance to win cash and prizes.
1These statements have not been evaluated by the Food and Drug Administration. This product is not intended to diagnose, treat, cure, or prevent any disease.