25 Days of Holiday Shakeology Recipes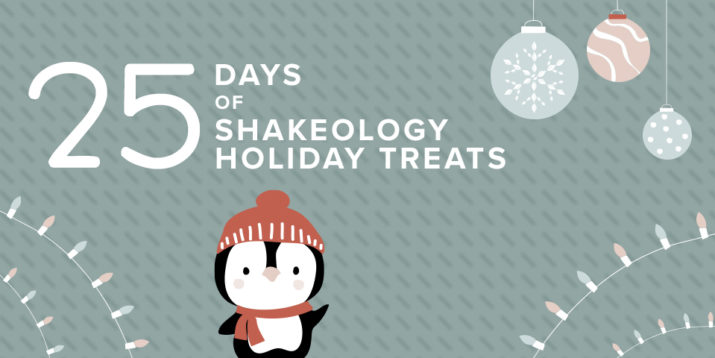 We're shaking spirits bright all season long with these festive Shakeology holiday treats!
These healthier takes on your favorite holiday recipes will help you celebrate the season deliciously, so you can ring in the new year with all your wellness goals intact.
Ginger and spice and everything nice — that's what this cozy holiday Shakeology is made of.
Though our recipe calls for Chocolate Whey Shakeology, it tastes just as good with Vanilla Shakeology.
Raise your hand: Team Donuts or Team Donut Holes?
It's a tough choice, we know, but here's another team to cheer for: Team Donut Balls!
These Apple Cider Donut Balls are everything you want in a snack: the perfect size to pop in your mouth, delicious flavors, and Shakeology. What more could you want?
Vanilla Whey Shakeology plus peppermint extract make this shake cool, creamy, and oh-so-wintry.
Add a dash of natural red food coloring (or beet juice) for a pretty pink candy cane swirl.
These mini cinnamon rolls contain Vanilla Whey (or Plant-Based Vegan) Shakeology, almond butter, almond milk, cinnamon, cocoa powder, maple syrup for a hint of sweetness.
Oh, and white beans. (What?!)
White beans are the secret ingredient in this recipe — they help create the yummy "dough" and add protein as well.
We came up with this easy and delicious "nice cream" recipe that's delicious and will help you stay on track year-round!
The secret to any nice cream recipe? Frozen bananas.
Then we added Cookies & Creamy Shakeology, almond milk, vanilla extract, and maple syrup for a light, sweet flavor.
These no-bake protein-packed cookies, with Chocolate Shakeology, almond extract, and shredded coconut bring all of the joy and none of the guilt.
Roll in cocoa powder, shredded coconut, or ground almond for gift-worthy Hanukkah macaroons.
Carrots, dates, walnuts, rolled oats, and Vanilla Whey Shakeology make these carrot cake balls taste just like the real thing.
Add a dollop of FIXATE cream cheese frosting for an extra-delicious treat.
If you don't have time to make banana bread from scratch and want a quick, delicious way to satisfy your banana craving, try these Banana Bread Protein Bites made with Vanilla Shakeology!
With only 8 ingredients and 10 minutes, you'll be nibbling on a yummy (and convenient!) bite of banana bread goodness — without the baking and waiting.
These salty-sweet, crunchy-chewy triple-layer bars are ridiculously addicting.
Serve them to friends and family alike, and they'd never guess they have 5 grams of protein!
What would the holidays be, really, without a batch of thumbprint cookies?
This version — which calls for Vanilla Whey Shakeology, almond butter, almond extract, honey, and rolled oats — swaps out jam for whole dried apricots.
For many Italian families, tiramisu is a holiday tradition. Try this take on the layered dessert, using Café Latte Whey Shakeology.
Your taste buds and your New Year wellness goals will thank you.
This coffee, maple, and rum extract concoction is everything you ever wanted in a creamy mocktail.
Use Vanilla or Café Latte Whey Shakeology for this one.
Vanilla Shakeology and cashew butter create the creamy, smooth flavor base, while peppermint extract and cacao nibs add minty, chocolately yumminess.
If you're feeling festive, you can add all-natural green food coloring for added fun.
OK, so you won't be able to chew the head off of these guys, but they won't put you into sugar shock either.
These delectable bites get an almost perfect rating from reviewers, which tells you they're legit.
This muddy buddy recipe has all the flavors you love: hints of vanilla and cocoa from Cookies & Creamy Shakeology, peanut butter, and, of course, chocolate.
Simply mix together peanut butter powder, melted chocolate, cereal, and Shakeology and you've got an irresistible snack in five minutes flat.

Delight your little ones, or your child-like spirit, with these bright blue "Frozen" themed smoothies made with Vanilla Whey Shakeology, coconut, and banana.
The color comes from blue spirulina, which you can find online, or try all-natural blue food coloring.
What's the difference between a sugar cookie, butter cookie, and shortbread, you ask? It's all in the ratio of flour, sugar, and butter.
But whatever you call this smoothie, made with Vanilla Whey Shakeology, butter extract, and almond flour, we're sure you'll find it delicious.
Because, honestly, who doesn't love butter?
Whenever a tray of holiday cookies is placed on a table, which is the first to go?
The peanut butter chocolate bars, if it's anything like our house.
Whip up a batch (or three) of these decadent-tasting no-bake chocolate peanut butter cups, and keep everyone out of the sugar coma.
Give a healthier holiday toast at brunch with our take on the bellini.
Made with Tropical Strawberry Plant-Based Vegan Shakeology, frozen peaches, and sparkling water, you'll delight in this light and festive mocktail.
Bring a dessert that you can enjoy with this over-the-top peanut butter chocolate pie.
With 13 grams of protein per serving, it's a dessert that will help keep you satisfied.
Store chilled until ready to serve.
For those mornings when everyone is devouring doughnuts, do yourself a favor and enjoy this delicious, overnight oats recipe instead, which we make with Cafe Latte Whey Shakeology.
With 24 grams of protein per serving, you won't get that post doughnut sugar crash that makes you head back to the box for more.
In these delightful little bites, almond flour and dates form the nutty and slightly sweet crust, while Chocolate (Whey or Plant-Based Vegan) Shakeology, ricotta, cherries, almond milk, vanilla extract, and cinnamon blend to create the flavorful, creamy cheesecake filling.
The best part?
You can be noshing one of these delicious cheesecakes in less than an hour.
Vanilla Whey Shakeology, cinnamon, maple syrup, and vanilla extract blend together for a convincing take on your favorite childhood treat.
All you need is five minutes and just a handful of ingredients — including Cookies & Creamy Shakeology — and you'll be sipping on a creamy shake full of your favorite cookie flavor.
The zingy ginger, warm cinnamon, sweet date, and creaminess from almond milk and Shakeology all blend together to create a filling, flavorful gingersnap cookie experience — no cookies required!
Are the holidays really the holidays without eggnog? Whip up a cup or coupe of this mocktail, made with Chocolate Whey Shakeology, allspice, and rum extract.