Cookies & Creamy Shakeology Nice Cream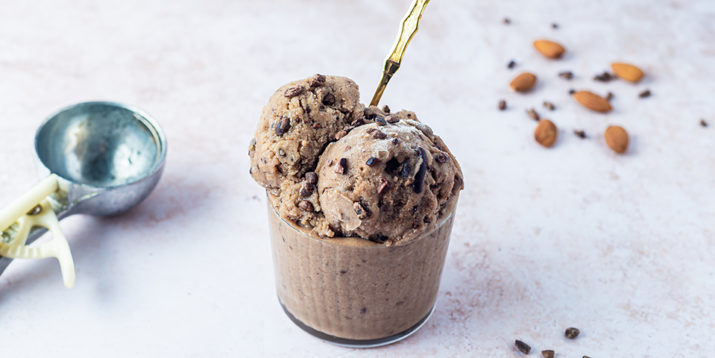 A cold bowl of ice cream with cookies and cream on a hot day (or any day, really!) sounds like heaven, but it's not a great treat when you're trying to keep your nutrition on point.
Lucky for you, we came up with this easy and delicious "nice cream" recipe that's delicious and will help you stay on track year-round!
The secret to any nice cream recipe? Frozen bananas.
Then we added Cookies & Creamy Shakeology, almond milk, vanilla extract, and maple syrup for a light, sweet flavor.
Pro tip:
If you don't have frozen bananas on hand, peel bananas and cut them into chunks. Place in a resealable plastic bag; freeze overnight. Or, at least for 4 hours until completely frozen before use. Use overripe bananas for the best flavor.
Check out our other Cookies & Creamy Shakeology recipes:
Just Cookies & Creamy Smoothie
Cookies & Creamy Shakeology Banana Split
Cookies & Creamy Shakeology Cookie Dough Bites
Coconut Dreamy Cookies & Creamy Shakeology
Mint Chip Cookies & Creamy Shakeology
Coconut Cookies & Creamy Shakeology
Cookies & Creamy Shakeology Nice Cream
A scoop (or two!) of this Cookies & Creamy Shakeology Nice Cream is the perfect snack for hot summer days.
Prep Time 10 mins
Cook Time 0 mins
Total Time 10 mins
Servings 4 servings, approx. ½ cup each
Calories 177 kcal
Ingredients
2 large bananas, chopped, frozen
2 scoops Cookies & Creamy Plant-Based Vegan Shakeology
1 Tbsp. pure maple syrup
½ tsp. pure vanilla extract
¼ cup unsweetened almond milk
1 Tbsp. + 1 tsp. cacao nibs
Instructions
Place bananas, Shakeology, maple syrup, extract, and almond milk in a food processor or high-powered blender; cover. Pulse for 2 to 3 minutes, or until very smooth, scraping down sides as needed.

Divide mixture evenly between fours mall bowls; garnish evenly with cacao nibs. Or, store in an airtight container in freezer for up to 4 days until ready to eat. If frozen, set out at room temperature for 15 minutes to soften before serving.
Recipe Notes
High in Fiber (F), No Dairy (ND), Quick 'n' Easy (QE), Vegan (V), Vegetarian (VG)
The Nutrition Facts box below provides estimated nutritional information for this recipe.
Nutrition Facts
Cookies & Creamy Shakeology Nice Cream
Amount Per Serving (1 serving)
Calories 177 Calories from Fat 27
% Daily Value*
Fat 3g5%
Saturated Fat 1g6%
Sodium 158mg7%
Carbohydrates 27g9%
Fiber 6g25%
Sugar 15g17%
Protein 9g18%
* Percent Daily Values are based on a 2000 calorie diet.
Love this recipe? You can get more delicious recipes like this, meal preps, and more with the 2B Mindset and Portion Fix nutrition programs on Beachbody On Demand.
Container Equivalents
1 Purple
½ Red
1 tsp.
2B Mindset Plate It!
Enjoy as an occasional treat. Be sure to track it.
If you have questions about the portions, please click here to post a question in our forums so our experts can help. Please include a link to the recipe.