Cinnamon Roll Shakeology Bites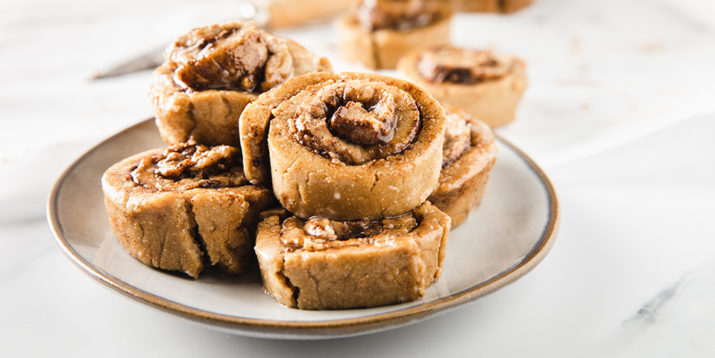 Remember hanging out at the mall as a kid and smelling that delicious aroma from that cinnamon bun store in the food court? (#nostalgia)
These Cinnamon Roll Shakeology Bites will take you back to your mall rat days — minus the gobs of butter, sugar, sugar, and more sugar from those cinnamon rolls.
These mini cinnamon rolls contain Vanilla Shakeology, almond butter, almond milk, cinnamon, cocoa powder, and maple syrup for a hint of sweetness.
Vanilla Shakeology
Experience the sweet, creamy flavor of robust vanilla as your daily superfood dessert.
Oh, and white beans. (What?!)
White beans are the secret ingredient in this recipe — they help create the yummy "dough" and add protein as well.
Pro tip: If you're feeling fancy, you can top these beauties with the maple glaze from our Baked Pumpkin Donuts recipe.
Please note — the nutritional information listed below doesn't include the glaze.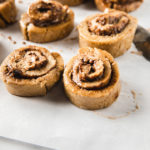 Cinnamon Roll Shakeology Bites
These mini cinnamon roll bites will take you back to your food court mall days and the aroma of freshly baked cinnamon rolls.
Prep Time 10 mins
Cook Time 0 mins
Total Time 10 mins
Servings 12 servings, 1 bite each
Calories 97 kcal
Ingredients
Parchment paper
2 Tbsp. ground cinnamon
2 Tbsp. unsweetened cocoa powder
2 Tbsp. pure maple syrup (or honey)
1½ cups (255 g) canned white beans, drained, rinsed
2 scoops Vanilla Shakeology
3 Tbsp. all-natural almond butter (or tahini paste)
2 Tbsp. unsweetened almond milk
Instructions
Line a 9 x 13-inch (23 x 33-cm) dish (or baking sheet) with parchment paper; crease the corners so paper lines the sides of the dish as well so cinnamon roll dough can easily be lifted out later. Set aside.

Combine cinnamon, cocoa powder, and maple syrup in a small bowl; mix well. Set aside.

Place beans, Shakeology, almond butter, and almond milk in a food processor; cover. Pulse until dough comes together in a ball.

Turn mixture out into prepared baking dish; press into the bottom and corners of dish in an even layer about ¼-inch (½-cm) thick. Gently lift parchment paper with dough out of baking dish; transfer to a cutting board.

Spread top of dough evenly with cinnamon mixture.

Gently roll up the long side of the dough, using the parchment paper to guide and squeeze the roll into a cylinder shape.

Slice into 12 equal rounds. Serve immediately, or refrigerate in an airtight container for up to 3 days or freeze for up to 1 month. If frozen, thaw before serving.
Recipe Notes
Quick 'n' Easy (QE), Vegetarian (VG)
The Nutrition Facts box below provides estimated nutritional information for this recipe.*
*Total Sugars 3 g, Added Sugars 3 g
Nutrition Facts
Cinnamon Roll Shakeology Bites
Amount Per Serving (1 serving)
Calories 97 Calories from Fat 27
% Daily Value*
Fat 3g5%
Sodium 53mg2%
Carbohydrates 13g4%
Fiber 4g17%
Sugar 3g3%
Protein 6g12%
* Percent Daily Values are based on a 2000 calorie diet.
Container Equivalents
½ Yellow
1 tsp.
Vegan Container Equivalents
½ Red
1 tsp.
2B Mindset Plate It!
Enjoy as an occasional treat. Be sure to track it.