Sure Thing con Megan Davies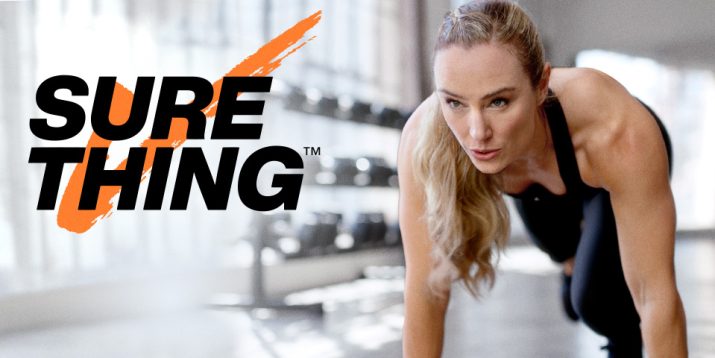 ¿Te comprometerías al máximo con tu fitness y tu nutrición si supieras que los resultados son algo seguro?
La superentrenadora Megan Davies te ayudará a lograrlo.
Su nuevo programa, Sure Thing, no se limita a hacer ejercicio y alimentarse bien. Se enfoca en combinar estos elementos de una manera tan eficaz y poderosa que te sorprenderán los resultados.
Sure Thing es una solución completa con todo lo que necesitas en un solo lugar, para que empieces a sentirte saludable, fuerte y confiado desde el primer día.
Megan no deja nada a la suerte, así que cuando unas fuerzas con ella, no habrá duda de que tus resultados serán algo seguro.
¿Qué es Sure Thing?
Este programa completo de 8 semanas te ayuda a cumplir el compromiso que has hecho contigo mismo. Harás ejercicio 5 días a la semana por 30-45 minutos al día.
Comienza con un enfoque del fitness basado en la ciencia, llamado "TYPE TRAINING™."
Megan alterna semanalmente entre el entrenamiento de fortalecimiento basado en resistencia y potencia, además del acondicionamiento cardio centrado en las fibras musculares de contracción lenta y rápida.
TYPE TRAINING es un protocolo de entrenamiento inclusivo para un cuerpo saludable, fuerte y equilibrado.
Con TYPE TRAINING, tu cuerpo siempre se ve retado, pero nunca sobreentrenado, así que puedes ponerte increíblemente en forma, de manera rápida.
Y como presenta un nuevo enfoque cada semana, puede ayudarte a superar el estancamiento.
¿Sabes cuál es otro beneficio? Hay tanta variedad que nunca te aburrirás.
Las rutinas de Sure Thing se apoyan en una estrategia de suplementos específica para garantizar que sacas el máximo partido a cada sesión, y a tus resultados.
Para completar tu solución, Sure Thing incluye una orientación nutricional sencilla y directa para eliminar las conjeturas sobre qué comer y ayudarte a mantener el buen camino. Megan quiere que te concentres, no que te desanimes.
Rutinas eficaces, suplementos estratégicos y nutrición sencilla. Nunca ha habido un programa mejor preparado para ayudarte a hacer el cambio de estilo de vida que necesitas.
¿Qué equipo necesito para Sure Thing?
Necesitarás mancuernas livianas, medianas y pesadas, y los deslizadores Strength Slides.
¿Para quién es Sure Thing?
Cualquier persona que desee una solución completa y accesible para cada etapa de su trayectoria de fitness.
Sure Thing te dice exactamente qué rutinas hacer, qué suplementos tomar y cómo planificar tus comidas.
Las rutinas son desafiantes, pero accesibles para personas de todos los niveles de fitness. En caso de duda, sigue el modificador.
¿Te gusta levantar pesas y estás preparado para pasar al siguiente nivel? El entrenamiento de tipo de Megan cubre todas las bases.
Si te gusta el estilo de entrenamiento realista y enriquecedor de Megan (es como tu mejor amiga, y además es una auténtica campeona), entonces Sure Thing es definitivamente para ti.
¿Quién es Megan Davies?
La superentrenadora Megan Davies es una entrenadora personal certificada por la Asociación Nacional de Acondicionamiento y Fuerza (National Strength and Conditioning Association, NSCA) y es la creadora de #mbf Muscle Burns Fat y #mbfa Muscle Burns Fat Advanced.
Tras participar en el reality show de fitness de Beachbody, THE 20s, Megan fue electa como la próxima superentrenadora para su primer programa, Clean Week.
Su estilo directo de entrenamiento y su personalidad carismática y motivadora te ayudarán a alcanzar tus metas de salud y fitness.