Beachbody Results: Melissa L. Lost 109 Pounds in 3.5 Years!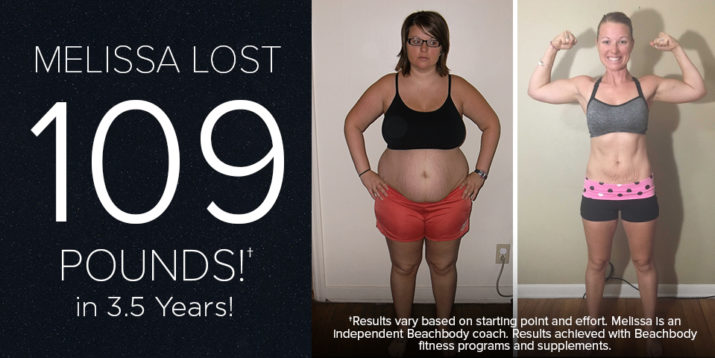 Melissa's inspiration for losing weight was her daughter, Elsie. "I was a new mom, and I needed to get healthy for my family," she says.
Melissa started with 21 Day Fix and Shakeology, then moved on to complete a variety of programs on Beachbody On Demand. She is proud to say that her transformation was achieved largely by following the "modifier" [easier moves] on the workouts.
How She Lost the Weight — and Kept it Off
Melissa was introduced to Beachbody by her sister April, who is a Beachbody Coach. April's support played a pivotal role in her sister's life-changing transformation.
"My sister showed me how to get started with Beachbody fitness programs and Shakeology. Since then, I have done several Beachbody programs, and I have loved them all. They all are challenging and amazing in their own way," says Melissa.
Melissa follows the Portion Fix nutrition plan and has been drinking Shakeology every day for the last three and a half years! She also uses the Beachbody Performance supplement line.
"I LOVE Beachbody On Demand. We use it all the time. And I've been drinking Shakeology going strong for 3.5 years now. I have lost 109 pounds, and I maintained that for a YEAR. I've gone from a size 24 to a size 2 and I have lost 90+ INCHES! I am in the best shape of my life, and I'm the happiest I've ever been. I'm a completely different person now, thanks to Beachbody."
See more of Melissa's amazing weight-loss results!
Learn about streaming workouts on Beachbody On Demand, healthy recipes, clean eating, and more on the Beachbody Blog.