Why Beachbody Super Trainers Love Energize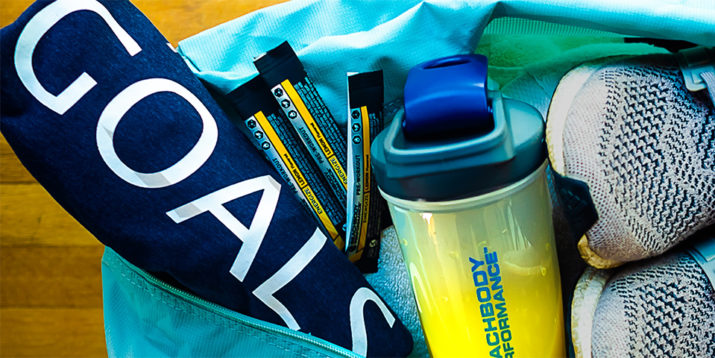 So, you're working out, eating right, and getting some results.
But for some reason, you can't seem to take your fitness to the next level because there are days when you struggle just to get through your workouts.
Enter Beachbody Performance Energize.
This pre-workout supplement can help you crush your workouts so you can hit your ultimate goals, whether it's to finish 80 Day Obsession, build muscle, or get leaner, faster, or stronger.
How? It combines three key ingredients (beta-alanine, caffeine, and quercetin) that are individually shown to help boost energy, enhance exercise performance, or delay fatigue.*
Now, you're probably thinking, "Whoa, whoa, whoa — I'm not a professional athlete or anything. Why do I need to use supplements?"
We asked Beachbody Super Trainers that very question (and others) — see what they have to say!
Pro tip: Energize is now available in convenient stick packs in three flavors: Lemon, Energize Fruit Punch, and Mixed Berry.
1. I'm not an athlete. Why do I need a performance supplement like Energize for my workouts?
"You don't have to be an athlete to get a little help from Energize with your workouts. The goal is always to push as hard as possible in your workout. Energize gives you that little extra boost to help you go all-in for the entire workout."* —Autumn Calabrese, 21 Day Fix and 80 Day Obsession
"You may not be an athlete in that you're not training for the Olympics or making a kazillion dollars playing a sport. But isn't the requirement of life pretty athletic?
"Endless hours working, chasing kids around, taking care of every life detail, and STILL try to get your workout in… why wouldn't you want help?
"Energize is scientifically designed and clinically tested to help increase performance during your workout and help DECREASE your perceived exertion — meaning you're working out harder but don't feel like it! That's athletic baby!"*‡ —Joel Freeman, LIIFT4 and CORE DE FORCE
"Workouts without Energize are like mornings without coffee. Whether you're an accomplished athlete or working mom trying to squeeze in some exercise, everyone deserves a boost of energy during their workouts!"* —Jericho McMatthews, CORE DE FORCE
"Energize helps with overall focus and helps keep you 'in the zone' while working out. You don't have to be an athlete to enjoy the benefits of performance supplements."* —Chris Downing, SHIFT SHOP
2. What's the downside of NOT using Energize?
"The downside would be not going as hard as possible or maybe not having as good a workout because you're tired. Energize helps you push to your max." —Autumn
"You know that feeling before your workout where you don't want to do it? Of feeling tired throughout the entire workout?
"Or that feeling at the end that it wasn't that great a workout because you were so tired and really didn't put that much effort into it? Yeah, all that.
"Why not give your body a clinically test, high-quality, and effective boost? You demand so much from it; reward it in kind!" —Joel
"Decreased overall energy, performance, and focus — before, during, and after your workout!" —Jericho
"I'd probably say you're missing out on the mental focus it provides to power you through your workouts."* —Chris
3. What Beachbody Performance supplements do you use in addition to Energize?
"I use the entire Beachbody Performance line except for Creatine. It does just what it says — it enhances my performance. It also helps with my recovery time, which is important so I can get back at it just as hard the next day.
"I like drinking Hydrate during my workout; I sweat a lot, especially during cardio workouts. It replenishes my electrolytes, which is important to be able to push through your workout and not end up dehydrated the rest of the day.
"I love chocolate Recover immediately following my workouts. As a fitness competitor, it was always really important to get that post-recovery shake in following your workout so you can give your muscles exactly what they need to start to repair.
"Recharge is definitely great before bed. I always take it at night after a hard lifting session. I know no matter what I'll be sore the next day, but taking my vanilla Recharge means that I'll be acceptably sore and still able to work out hard the next day."* —Autumn
"My BBP staples besides Energize are Recover and Recharge. I'm all about making sure I get enough daily protein intake to stimulate muscle recovery and encourage new muscle growth.
"Recover and Recharge are no-brainers for these two things. I'm also never without Hydrate when I know I'm heading into an intense workout session."* —Joel
"My favorite supplements besides Energize are chocolate Recover and Hydrate! I love the chocolatey taste of Recover — it's like a post-workout treat and badge of honor.
"Hydrate is amazing because it's light and refreshing to enjoy but also works wonders to help replenish electrolytes and boost hydration without tons of added sugar, calories, or artificial ingredients commonly seen in other sports drinks."* —Jericho
"I'm a huge fan of Hydrate, particularly because I've always struggled with hydration during workouts. Hydrate replenishes electrolytes to my body and I need that because I sweat a lot!"* —Chris
The Bottom Line
But the real proof is in the pudding: If you want to get the most out of your workouts, then try Energize — and the entire Beachbody Performance line — to see how it can help you push harder so you can get in the best shape of your life!
*These statements have not been evaluated by the Food and Drug Administration. This product is not intended to diagnose, treat, cure, or prevent any disease.
‡Results of an acute clinical trial of 13 trained cyclists who performed 30 minutes of vigorous Steady-State Exercise at 80% V02 Max (when Perceived Exertion was measured) before a 15-minute Time Trial Performance Test (when Power Output and Total Work Done were measured). Participants consumed either 2 scoops of Energize or a calorie-matched placebo prior to the test.