Barre Blend World Premiere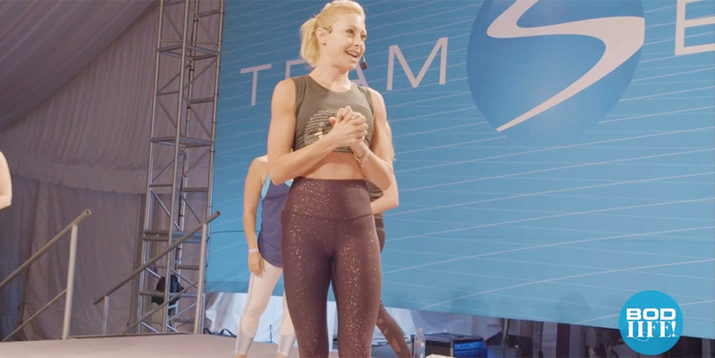 Barre Blend premiered in Scottsdale, Arizona during Beachbody's 2019 Leadership Retreat: a weekend of cutting-edge training, team building, and personal growth that's earned by Team Beachbody's top coaches during the previous year.
In between the leadership sessions, buffet lines, and teambuilding activities were a variety of workouts, including the first-ever live look at Barre Blend with Super Trainer Elise Joan.
Beachbody's latest fitness program is a low-impact, total-body combination of classic barre and Pilates moves with light weights to help you sculpt and strengthen your entire body.
Elise completely debunked the myth that barre is soft or easy with her fierce morning barre sesh.
And not having your own in-home barre is no problem — just grab a partner for support!
This workout will challenge you no matter your fitness level – whether you're pre- or post-natal, can barely touch your toes or an elite athlete, Elise has you covered.
She's had people burn as many as 346 calories with just 26 minutes of Barre Blend.
And barre isn't all core and legs — just look to Elise's guns for proof that it'll shape and tone your entire body.
You might even recognize some of Elise's biggest supporters as Beachbody Super Trainers Amoila Cesar and Joel Freeman joined in on the Barre Blend fun and found their bliss in the burn!
Pro tip: Looking for more lifestyle and behind-the-scenes content? Head to Beachbody On Demand and check out our BODlife channel!