How to Bake Chicken Breasts 101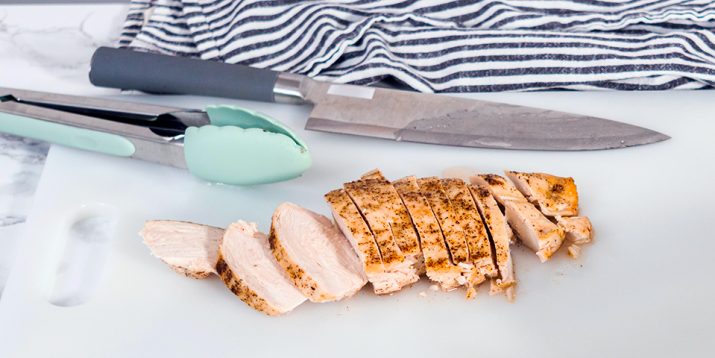 Even if you're a total beginner in the kitchen, you can master how to bake chicken breasts.
And after you do, you'll be able to master hundreds of healthy recipes, from salads to soups to sandwiches to dinner any night of the week in less than a half-hour.
There are lots of ways to make great baked chicken breasts, but this simple, no-fuss method is a great place to start.
(Bonus: Here are 30 baked chicken breast recipes to inspire you!)
How to Bake Chicken Breasts
1. Purchase boneless, evenly sized chicken breasts
Sometimes chicken from the butcher's counter may still have the tenders attached (that's the thin strip of meat that runs along the underside of the breast, making one side much thicker than the other).
Remove these with a knife and save them for another meal. I like to freeze them, and when I have enough, I make these Almond Crusted Chicken Fingers.
2. Preheat your oven to 375 degrees F
While the oven is heating up, pat each chicken breast dry with a paper towel.
Don't wash your chicken breasts in the sink — you can easily spread germs to dishes, utensils, and other surfaces of your kitchen.
And make sure you wash your hands thoroughly after handling raw poultry, as well as any cutting boards, knives, etc., that it came in contact with.
3. Place chicken breast in an ovenproof baking dish
Drizzle each chicken breast with about a teaspoon of olive oil. You can also squeeze a lemon or lime over the meat to give it a little extra moisture as it cooks.
4. Season with salt and pepper and any herbs and spices
Chicken breast meat has a reputation for being flavorless, but it tastes wonderful when properly seasoned.
Try a pinch of dried rosemary or thyme, paprika, or a spice rub like this taco seasoning.
5. Put the baking dish in the oven and cook for about 15–20 minutes
It doesn't take long to bake chicken breasts, but you'll find that thicker pieces of chicken will require more cooking time.
Check the meat after 15 minutes. Pierce the meat with a toothpick or the tip of a knife.
If the juices that run out of it are clear, it's done. If the juice runs pinkish or red, pop the chicken back into the oven for a few more minutes.
The U.S. Department of Agriculture recommends cooking raw poultry to the internal temperature of 165 degrees F.
If you want to be doubly sure your chicken is cooked correctly, you can use a food thermometer.
6. Remove chicken breast from the baking dish and let it rest
By doing this for a few minutes before you serve the chicken, it allows the juices to settle back into the meat.
(Remember: Make sure you don't use the same cutting board or dish that you used for the raw chicken breast!)
If you plan to cook more than two chicken breasts, just use a larger baking dish, and leave plenty of space around each piece of meat.
You do not need to increase the cooking time.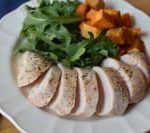 Baked Chicken Breast
For perfect baked chicken breasts, follow this recipe to learn how to bake chicken in the oven that succulent and delicious.
Prep Time 5 mins
Cook Time 20 mins
Total Time 25 mins
Servings 1 serving
Calories 165 kcal
Ingredients
4 oz. raw chicken breast, boneless, skinless
1 tsp. olive oil
sea salt (or Himalayan salt), optional, to taste
ground black pepper, optional, to taste
Instructions
Place chicken in ovenproof baking dish.

Drizzle chicken breast with oil. Season with salt and pepper if desired.

Bake for 15 to 20 minutes or until chicken is no longer pink in the middle and juices run clear.
Recipe Notes
Cooking times may vary depending on the thickness of the chicken breast.
You can also season chicken with lemon or lime juice and dry herbs like rosemary and thyme.
The Nutrition Facts box below provides estimated nutritional information for this recipe.
Nutrition Facts
Baked Chicken Breast
Amount Per Serving
Calories 165 Calories from Fat 54
% Daily Value*
Fat 6g9%
Saturated Fat 1g6%
Cholesterol 65mg22%
Sodium 343mg15%
Protein 25g50%
* Percent Daily Values are based on a 2000 calorie diet.
Container Equivalents
1 Red
1 tsp.
2B Mindset Plate It!
Makes a great protein as part of lunch or dinner.
Baked Chicken Breast Recipes

Ingredients:
2 cups cooked brown rice, warm
1 Tbsp. fresh lime juice
2 Tbsp. finely chopped fresh cilantro
3 cups chopped romaine lettuce
1 cup cooked black beans, warm
1½ cups shredded baked chicken breast, warm
½ cup shredded Monterey Jack cheese
1 cup fresh tomato salsa
½ medium avocado, sliced
4 Tbsp. low-fat plain yogurt
Find out how to make the Chicken and Black Bean Burrito Bowl.
Ingredients:
1 (6½-inch) whole wheat pita, cut in half to make pockets
3 oz. baked chicken breast, boneless, skinless, cut into 1-inch cubes
¼ medium tomato, chopped
¼ cup chopped cucumber
1 Tbsp. chopped red onion (optional)
¼ tsp. dried oregano
1 Tbsp. fresh lemon juice
¼ cup shredded romaine lettuce
2 Tbsp. crumbled feta cheese (about ½ oz.)
Find out how to make the Greek Chicken Pita recipe.
Ingredients:
4 baked medium sweet potatoes, cut in half
1 tsp. olive oil
½ tsp. sea salt (or Himalayan salt)
4 oz. shredded baked chicken breast, boneless, skinless
1 tsp. all-natural taco seasoning, no salt added
1 cup steamed spinach
½ cup reduced-fat (2%) plain Greek yogurt
¼ cup chopped fresh cilantro
Find out how to make the Sweet Potato Skins with Chicken and Spinach recipe.