21 Day Fix EXTREME Results: Denee Lost 12.6 Pounds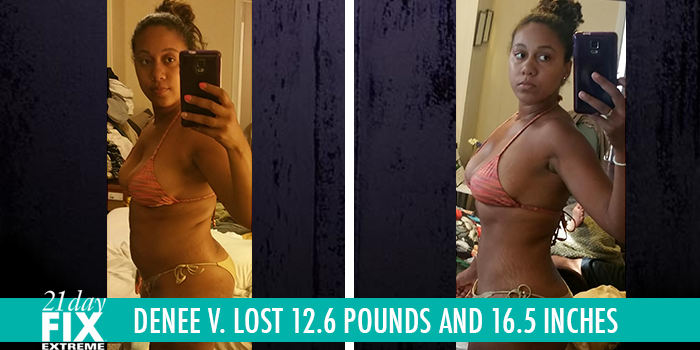 Denee V. had lost weight previously, but then slipped back into bad habits and felt a loss of control. With the help of her coach, she got back on track and lost 12.6 pounds and 16.5 inches in two rounds of 21 Day Fix EXTREME! Read her story in her own words below:
 I had lost weight a year ago, but then I went back to my old habits I spiraled downhill. I felt like I was losing myself and I didn't know what to do. I felt sluggish, tired, angry, and just downright miserable. What I was doing wasn't working. I was going to the gym and just eating way too much of whatever I wanted.
Then, I was inspired by my coach to start my journey again. She was awesome!  I kept seeing her inspiring posts every day, and one day I decided to ask her about her challenge group, and I joined. She let me stay in her group until I reached my goals, and she kept me motivated me even when it was getting tough.  My son also inspired me. I wanted to be able to run and play with him. Overall, I wanted to be healthier. 
I had already done 21 Day Fix and I loved it, but 21 Day Fix EXTREME brought my fitness to the next level.  The workouts were challenging yet doable.  My favorite workout is leg day. I love the weights and I love that it is only 30 minutes a day! My goals were to tone, gain muscle, and lose weight, and I saw the results in my arms, legs, stomach, and waist.
I feel like I have a brand new routine: I wake up, and I instantly think about making eggs and 1 slice of toast with fruit, instead of buying a bacon, egg and cheese croissant sandwich. Now I know how much food is supposed to be on my plate. I am so energized, and I wake up with a purpose. I feel amazing, and I want to help other people feel amazing too! I now make fitness and good eating habits my lifestyle. Thank you so much, Beachbody!
---
You can change your life, too. Take the Beachbody Challenge for the tools you need to Decide, Commit, and Succeed! Complete any Beachbody program, and enter your results for a free gift and a chance to win cash and prizes.