Try These Knockout 10 Rounds Shakes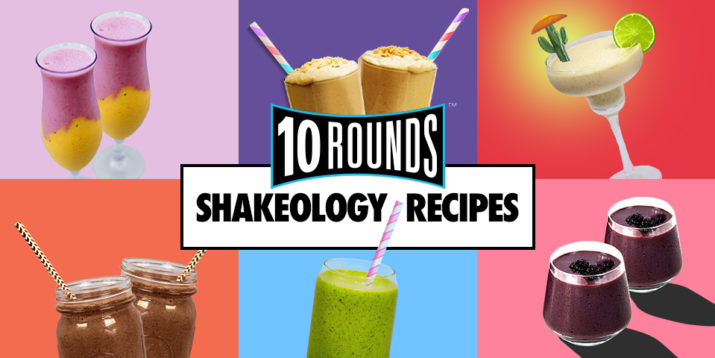 If you're looking for some Shakeology recipes to try out, don't miss these knockout shakes inspired by Joel Freeman boxing program, 10 Rounds!
(Pro tip: Prepare yourself for some — ok, a LOT — of boxing puns ahead. You've been warned.)
These recipes were inspired by Joel & Crew's Excellent 10 Rounds Roadtrip.
They filmed the entire program on the road, driving to six cities across the U.S., ending up in Philadelphia, home to the iconic "Rocky" steps.
Learn more about 10 Rounds here and make sure you're down with the lingo!
And if you love these recipes, you'll find hundreds of delicious Shakeology recipes like these on the BODi Blog.
Bookmark the Recipes page because we're always adding new recipes!
10 Rounds Shakeology Recipes
The La-La Land Smoothie, with its bright, refreshing flavors will have your tastebuds dancing for joy.
Creamy Vanilla Shakeology blends with juicy kiwifruit, orange zest, avocado, hearty kale, plus a scoop of Collagen Boost — because you'll need beautiful skin and healthy nails for your close-up, right?
If you're feeling down and out, blend up this gorgeous Black Jack Shakeology smoothie and watch your luck turn around.
Vegas, baby, is Stop #2 on Joel Freeman's Excellent 10 Rounds Adventure. With only five ingredients, you can whip this up without having to put your cards down.
Just toss a scoop of Chocolate Shakeology, almond milk beverage, ice, frozen blackberries, and cacao nibs in a blender and you'll be ready to go the distance!
The Lone Star state is known for barbecue, Tex-Mex, and blazing hot temperatures, among other things.
To help keep you cool, we created this Frozen Margarita recipe with Shakeology, not alcohol (#sorrynotsorry).
Now you can enjoy the flavor of the ultimate hot-weather cocktail and stay on track with your nutrition goals.
Crockett and Tubbs only wish they were as cool as this Miami Vice Shakeology recipe.
With frozen mango and strawberries, lime zest, plus Vanilla + Strawberry Shakeology, this creamy, icy shake will transport you to sunny Miami, Florida — minus the humidity and mosquitos!
(Unless you're IN Miami; in that case, you need to make one of these, ASAP.)
What's better than a cold, cream cheesy slice of cheesecake with a sweet Graham cracker crust?
A smoothie that tastes just like one — but won't make you throw in the towel when it comes to your healthy eating plan.
In this smoothie recipe, Vanilla Shakeology goes head-to-head with creamy Neufchâtel cheese, Greek yogurt, and frozen cauliflower rice for a luxuriously smooth shake.
(Pro tip: Frozen cauliflower provides extra creaminess and it's mild-tasting, you'll never even know it's in your shake!)
Lemon zest adds a tart kick, with a sprinkling of Graham crackers for a crunchy finish.
If you're a Philly fan, you know that fall means spiced wafer season. (Sorry, pumpkin spice!)
A spiced wafer is actually a snappy cookie that tastes of ginger, clove, cinnamon, and molasses.
We re-created the famous flavors for this Spiced Wafer Latte Shakeology so you can enjoy the yummy taste of a local treasure.